Fri 12 Jan 2007
Posted by Christian Donner under
Woodcliff Hills Cut-through
Comments Off

on A new roadway connecting the Pine Needles Park and Woodcliff Hills neighborhoods?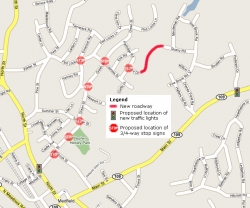 Location of the proposed cut-through (with locations of new stop signs and traffic lights where they will likely be needed)
The following is a summary of the ongoing discussions at the recent Planning Board meetings about an extension of the Woodcliff Hills subdivision and a new roadway connecting the Pine Needles Park and Woodcliff Hills neighborhoods.
The builder emphasized in the 1/8 meeting that he is pursuing a cul-de-sac option that will require a waiver for the 500 feet limitation for cul-de-sac.
Town officials (fire chief and police chief) requested that a roadway will be created as part of the new development to provide the ability for emergency vehicles to get from the Pine Needle Park area to Woodcliff Hills.
The residents of both sides of the proposed cut-through overwhelmingly oppose the cut-through, citing that it will reduce public safety, not increase it, and that it is not needed.
The options that have been proposed so far:
Cul-de-Sac Option
There will be no connecting roadway and consequently no impact on current traffic patterns.
No-Waiver Option (Cut-through)
Quarry Road in Woodcliff Hills will be connected with Morse Drive in the Pine Needle Park neighborhood, which will create a bypass road for the notoriously congested downtown area of Medfield for motorists traveling south on Route 109.
Limited public roadway
This option is compromise that will allow emergency vehicles to pass through the new subdivision while partially of fully excluding general traffic. Several possible variations were discussed:
a. An easement that will allow emergency vehicles to connect through one of the lots between the planned Quarry Rd Extension and the planned Kevin Dr. Extension.
b. A cut-through with traffic limited during rush hours.
There is a number of questions that have not yet been answered in the hearings, such as the impact on the general traffic situation in Medfield, how the town will deal with follow-up costs, etc.